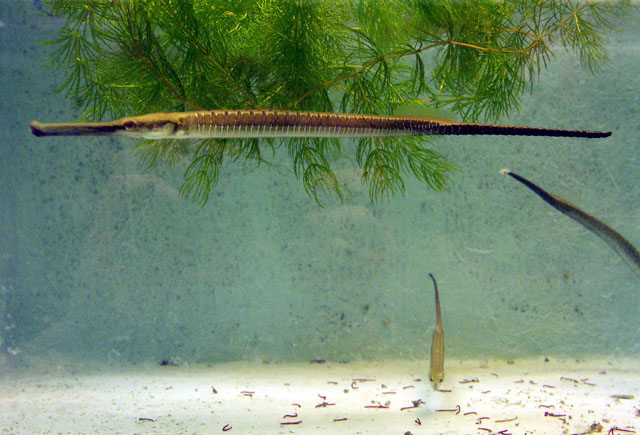 photo by Busson, F.

Syngnathidae (Pipefishes and seahorses), subfamily: Syngnathinae
41 cm SL (male/unsexed)
benthopelagic; freshwater
Asia: Indonesia, Malaysia, Thailand, Cambodia and Viet Nam. Records from China and Taiwan need confirmation and verification by additional collections.
Dorsal soft rays (total): 43-65. Conspicuous color pattern in life with alternating blue and brown bars; 22-24 trunk rings; 32-38 tail rings (Ref. 43281).
Largest freshwater pipefish. Found in rivers and streams (Ref. 5316). Feeds on small crustaceans, worms and insects. Of little food value. Not seen in markets (Ref. 12693). Ovoviviparous (Ref. 205). The male carries the eggs in a brood pouch which is found under the tail (Ref. 205).
Data deficient (DD); Date assessed:

25 June 2018

Ref. (123251)
harmless
Source and more info: www.fishbase.org. For personal, classroom, and other internal use only. Not for publication.
Page created by Jen, 05.08.02, php script by kbanasihan 06/09/2010 , last modified by
sortiz
, 10/02/17