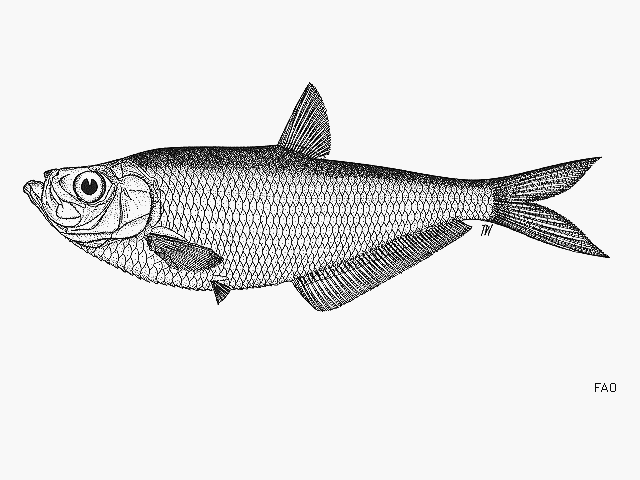 photo by FAO

Pristigasteridae (Pristigasterids)
22 cm SL (male/unsexed)
pelagic-neritic; freshwater; brackish; marine; depth range 0 - 50 m, anadromous
Indo-Pacific: Indian Ocean (Bombay to eastern coasts of India; perhaps east to Andaman Sea coasts, but no certain records), South China Sea (northwestern coasts of Kalimantan, also Sarawak).
Dorsal spines (total): 0-0; Anal spines: 0-0; Anal soft rays: 46-52. Body moderately slender, belly with 23 to 26 + 11 to 13, total 34 to 38 scutes. Eye large, lower jaw projecting. Dorsal fin origin at about midpoint of body or a little behind; anal fin origin below dorsal fin base. Swim bladder with a single long tube passing back down right side of body above anal fin base.
Occurs in coastal waters, apparently entering estuaries. More data needed, based on better identifications than in the past.
Data deficient (DD); Date assessed:

28 February 2017

Ref. (123251)
harmless
Source and more info: www.fishbase.org. For personal, classroom, and other internal use only. Not for publication.
Page created by Jen, 05.08.02, php script by kbanasihan 06/09/2010 , last modified by
sortiz
, 10/02/17