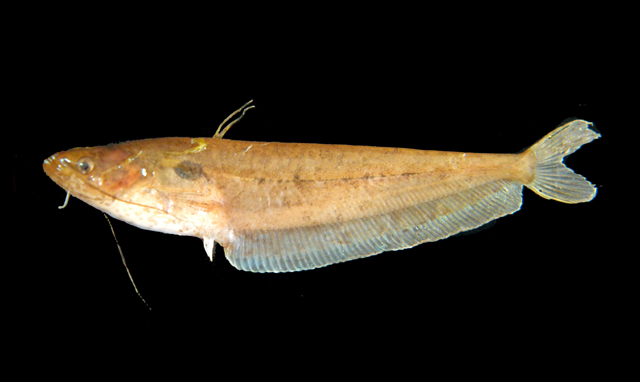 photo by Ratmuangkhwang, S.

Siluridae (Sheatfishes)
21.44 cm SL (male/unsexed)
demersal; freshwater
Asia: Mekong and Chao Phraya River drainages in Indochina, the Malay Peninsula, the Barito River drainage in southern Borneo and Java.
Dorsal soft rays (total): 4-4; Anal soft rays: 54-74. Two pairs of barbels; maxillary barbels reaching pelvic fins or anal fins; mandibullary barbels minute, about as long as diameter of eye. Eyes small, covered by skin. Dorsal and pelvic fins small; anal fin long; pectoral fins well developed (Ref. 4792); vomerine teeth in 2 patches (Ref. 12693). Brown, usually marmorated body with conspicuous round black blotch above pectoral base (Ref. 43281).
Occurs in streams and rivers of all sizes with currents ranging from sluggish to moderate (Ref. 12693). Moves into freshly inundated habitats during the flood season (Ref. 12693). Feeds on crustaceans and mollusks (Ref. 12693). Sold fresh or smoked on skewers (Ref. 12693).
Least Concern (LC); Date assessed:

28 May 2019

Ref. (123251)
harmless
Source and more info: www.fishbase.org. For personal, classroom, and other internal use only. Not for publication.
Page created by Jen, 05.08.02, php script by kbanasihan 06/09/2010 , last modified by
sortiz
, 10/02/17