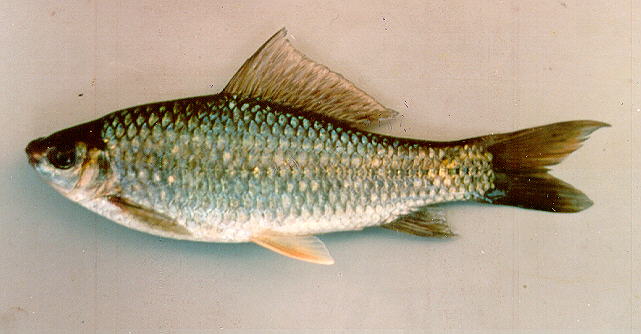 photo by Baird, I.G.

Cyprinidae (Minnows or carps), subfamily: Labeoninae
15 cm SL (male/unsexed)
benthopelagic; freshwater, potamodromous
Asia: Mekong and Chao Phraya basins.
Usually 12-13 branched dorsal rays; in life, body plain greenish with pink fins, and a dark, vertically elongated blotch above pectoral fin (Ref. 27732).
Found at midwater to bottom depths in large and medium-sized streams. Moves into flooded forests or open fields and begins to re-enter rivers in October. Young of the year are first seen in August. Feeds on periphyton, phytoplankton and some detritus. Usually used to make prahoc (Ref. 12693).
Least Concern (LC); Date assessed:

02 March 2011

Ref. (124695)
harmless
Source and more info: www.fishbase.org. For personal, classroom, and other internal use only. Not for publication.
Page created by Jen, 05.08.02, php script by kbanasihan 06/09/2010 , last modified by
sortiz
, 10/02/17