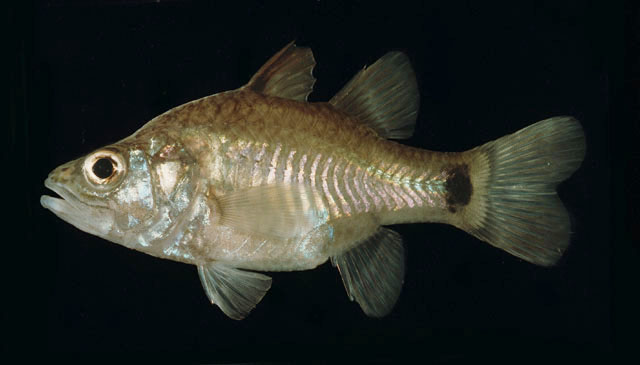 photo by Randall, J.E.

Apogonidae (Cardinalfishes), subfamily: Apogoninae
17 cm TL (male/unsexed)
demersal; freshwater; brackish; marine; depth range 0 - 2 m, amphidromous
Asia and Oceania: Japan south to Indonesia and Papua New Guinea. Recorded from New Caledonia (Ref. 11889), and Micronesia (Ref. 59012).
Dorsal spines (total): 7-7; Dorsal soft rays (total): 9-9; Anal spines: 2-2; Anal soft rays: 8-8. Trunk rhombic, mid body below the 1st dorsal base high. Nape moderately concave, snout tip rounded. Maxillary reaching rear border of eye. A distinct black spot just in front of anal base about equal to eye diameter in width.
Adults inhabit mangrove estuaries, tidal creeks and lower reaches of freshwater streams (Ref. 44894). Usually found in brackish water or freshwater of river mouths. Nocturnal (Ref. 7300), euryhaline species (Ref. 59012).
Least Concern (LC); Date assessed:

16 August 2011

Ref. (123251)
harmless
Source and more info: www.fishbase.org. For personal, classroom, and other internal use only. Not for publication.
Page created by Jen, 05.08.02, php script by kbanasihan 06/09/2010 , last modified by
sortiz
, 10/02/17