You can
sponsor
this page
Upload your photos and videos

Pictures | Google image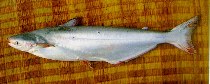 Pangasius krempfi
Picture by Roberts, T.R.

Teleostei (teleosts) >
Siluriformes
(Catfishes) >
Pangasiidae
(Shark catfishes)
Etymology:

Pangasius:

The Vietnamese name of a fish (Ref. 45335).

Environment: milieu / climate zone / depth range / distribution range Ecology
Marine; freshwater; brackish; benthopelagic; potamodromous (Ref. 51243). Tropical
Asia.

Size / Weight / Age

Maturity: Lm&nbsp?&nbsp range ? - ? cm
Max length : 120 cm SL male/unsexed; (Ref. 30857); max. published weight: 14.0 kg (Ref. 9497)
Dorsal spines (total): 1; Dorsal soft rays (total): 6-7; Anal spines: 4; Anal soft rays: 31 - 34. Body depth 4.5-5.0 times in SL (Ref. 43281). Dorsum sky blue; submarginal caudal-fin stripes absent; no humeral spot; vomerine teeth separate at midline, joined to palatine teeth on each side forming long crescentic patches; 18-22 gill rakers in first arch (Ref. 12693). Body dark blackish gray on top and sides, silver gray on abdomen and fins lightly yellow (Ref. 45563).
Obligate air-breathing in the genus (Ref. 126274); Migrating but the direction is unknown. Dietary habits have not been studied. Taxonomy of this species may be problematic (Ref. 12693). Unique among pangasiid species in the Mekong in spending a major part of its life in marine coastal waters. Migrates into the Mekong River (but not into any other rivers) in order to breed (Ref. 12369). Regarded to be anadromous (Ref. 12369). It was hypothesized that at least two populations in the Mekong undertake migration (Ref. 37770). One population migrates during May-September from just south of Khone Falls upstream to spawning grounds along the mainstream Mekong all the way to Chiang Khong near the Lao-Thai-Myanmar border. The other population migrates downstream from around Stung Treng to unknown spawning grounds somewhere between Stung Treng and Kompong Cham in Cambodia during the spawning season between May and August. When water level starts to fall in October, the fish moves back to the main river to initiate an upstream dispersal migration, reaching the stretch just below the Khone Falls. Stays in deep pools within the mainstream during the dry season (Ref. 37770). Only two specimens of the fish were collected on April 5, 1956 and September 10, 1957 in Beihai City, Guangxi (Ref. 45563). Another on November 22, 1963 at Shanwei City of Guangdong Province (Ref. 45563).
Life cycle and mating behavior

Maturity

|

Reproduction

| Spawning |

Eggs

|

Fecundity

|

Larvae
Roberts, T.R. and C. Vidthayanon, 1991. Systematic revision of the Asian catfish family Pangasiidae, with biological observations and descriptions of three new species. Proc. Acad. Nat. Sci. Philad. 143:97-144. (Ref. 7432)

IUCN Red List Status (Ref. 126983)

Human uses
Tools

Special reports

Download XML

Internet sources